Inhabitants of a Do-Little® Aquarium Live for the benefit of each other...

The Do-Little® Aquarium is a miniature environment whose inhabitants live for the benefit of each other in a continuous cycle. The combination of BioSand® Beads and BioSand® Liquid work to help keep the aquatic environment safe for fish by providing an excellent place for beneficial bacteria to live. The bacteria get their nourishment from the waste produced by the fish and plants.
---
The Do-Little Creed




This is my fish.


There are many like him, but he is my special fish.

I will feed him one or two days a week.
I will change one-third of his water every month or two.
I will keep him out of direct sunlight and cold drafts.
I will not place him on the TV or stereo speakers.

I will talk to him every day to show him I care.
I will protect him from glass tapping visitors.
Together we will deal with the stresses of life.

Contact Us Today For Pricing And Availability!
Call Our Toll Free Number
For All Of The Details
---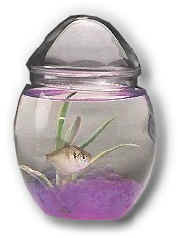 #450 27 oz. Egg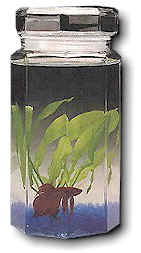 #200 48 oz. Octagon
Also 32 oz. is available